About Cedarbrae Veterinary Clinic
We are a CVO accredited companion animal hospital that focuses on dogs, cats, bunnies & small mammals.
We are located in the east-end of Scarborough, Ontario, just one block north the of the intersection of Lawrence Avenue E., and Markham Road.
Our veterinary services includes:
Vaccinations
Animal Dentistry
Spay / Neuters
Certifications & Memberships
The Canadian Veterinary Medical Association (CVMA) is the national voice for the veterinary profession dedicated to serving and representing the veterinarians of Canada.  The Association is committed to excellence within the profession and to the well-being of animals. It promotes public awareness of the contribution of animals and veterinarians to society.
The Ontario Veterinary Medical Association is a professional association representing over 3,300 veterinarians in the Province of Ontario, working in private practice, government, academia, industry and public service.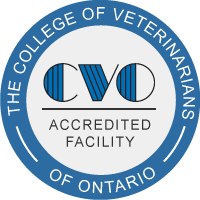 The College of Veterinarians of Ontario protects and serves the public interest through the regulation of the practice of veterinary medicine. Accordingly, veterinarians are licensed, facilities are accredited, standards and policies are developed and maintained, and an investigations and resolutions process is available. The College licenses approximately 4,500 veterinarians and accredits over 2,100 veterinary facilities in Ontario.
Location
Mailing address
700 Markham Road, unit 5
Scarborough, ON. M1H 2A7